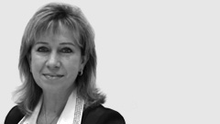 Irina Baklien' s dedication to serving the interest of clients has quickly established her as one of the Ray White Melbourne CBD new bright stars.  Irina is working closely with the Principal Eric Kuan to ensure that every client receives the very highest levels of personal service and individually tailored advice. Irina's friendly and helpful nature , enable her to gain the trust and confidence of clients.
Her exceptional communication skills can ease clients through what can be an emotional process of selling/buying their most important asset with compassion and enthusiasm. With Irina Baklien looking after your property needs, you can rest assured that you are in very good hands indeed.
Born in Russia , Irina is happily married and raising two daughters with husband Arne.
Agent Reviews
Tom and Nancy- Melbourne- 3409 / 288 Spencer Street , Melbourne VIC 3000

We send our warmest thanks to Irina and Eric (of Ray White Melbourne), who provided a package of exceptional advertising, enthusiasm and salesmanship to help sell our apartment. They used the right photographer, so our apartment looked stunning in the twilight photos. Irina met and greeted potential buyers at each opening and provided frequent feedback on the level of interest and details of people's enquiries. This level of feedback was really confidence building and helped to offset our nerves during the stressful selling process. When offers began to be submitted from interested buyers, Eric capably and skilfully negotiated with all the bidders to achieve an impressive final sale price. We would highly recommend this energetic duo to other sellers in the CBD.