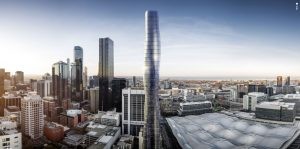 In a city at the forefront of living standards, Premier Tower leads an architectural revolution, blurring the boundary between art and design. Exceptional in vision. Exquisite in execution. Original and unmistakable.The location of this innovative development is on the corner of Bourke Street and Spencer Street – a vibrant hub for locals and visitors alike. This stunning city landmark is your launch pad to multicultural Melbourne, with breathtaking views and a world of entertainment for you to discover. Premier living at its best. This bustling transport hub is your link to train travel across Melbourne's city and suburbs – or travel even further to see all that Victoria and Australia have to offer.
The visionary design and unique structure of Premier Tower is at the forefront of contemporary architectural practice, inspired by form and delivering remarkable function. This landmark building comes to life with a sensual flow that sets a new bar for urban architecture – inspired by the natural grace of human movement and made possible with a combination of engineering innovation and breathtaking design.Important architecture challenges perceptions. Leading architect Elenberg Fraser celebrates the complex beauty of the female form – pushing the boundaries of cutting-edge technology and contemporary design. Having harnessed the push and pull of structural forces to create this unique apartment tower, the influence of feminine power is obvious – with a sleek façade that stretches beyond traditional limitations.
The shared spaces feature impressive amenities which will make you never want to leave. Four cleverly designed amenity levels make Premier Tower a building unlike any other – a wealth of lifestyle choice and comfort, just waiting for you. From work-outs in the fully-equipped gymnasium, to exclusive entertaining in the private dining and communal lounge areas, apartment living here means anything is possible. Great urban design considers the varied needs of today's busy lifestyle and, at Premier Tower, you can move fluidly from active to relaxed, with uncompromising style to suit the most discerning inner-city resident.
Contact our sales agent Eric Kuan for more information.